Best Brokers For Options Trading
Check out our top picks for the best brokers for options trading.
Updated: December 7, 2023
If you are hoping to make it in the world of options trading, then you need to know when and where to trade.
There was a time when trading stocks was a lot more complex and had far fewer possibilities and avenues to trade. But that's not the nature of the modern world of investing.
Trading options has, for a long time, been scary and unknown. But modern investors are taking a leap and learning more about things like this to make the most of their investments.
Today, traders from the UK, US, Australia, Germany, China, and beyond can trade and create a portfolio of their favourite options trades exactly as they want from the comfort of their own home.
What Is Options Trading?
Options trading means buying and selling options. Options are contracts with which the holder can buy or sell an asset if it moves above or below a pre-determined price.
The key difference between options trading and futures trading is that with options, the holder has the option to buy or sell, but not the obligation; hence the name "options". On the other hand, Futures do not provide an option because participants have to buy or sell the asset once certain conditions are met.
With online brokers, you can become a master of options trading. But which options trading brokers are right for you? Which trading platforms are the easiest to use, with the lowest fees, and the biggest upsides? In short, which are the best options trading platforms?
What Are the 7 Best Brokers for Options Trading?
Below, check out our top picks for the best options trading platforms:
IG Disclaimer: Spread bets and CFDs are complex instruments and come with a high risk of losing money rapidly due to leverage. 68% of retail investor accounts lose money when trading spread bets and CFDs with this provider. You should consider whether you understand how spread bets and CFDs work, and whether you can afford to take the high risk of losing your money.
**Plus500 Disclaimer: 81% of retail investor accounts lose money when trading CFDs with this provider. You should consider whether you can afford to take the high risk of losing your money.
1. Tastytrade (Tastyworks)
One of the things that makes Tastytrade such a great broker for options trading is the fact that it has very competitive and manageable fees for trading options.
Tastytrade Fees
Fees can be the downfall of trading platforms. This is especially true for options trading. Some people will hold off on getting into options trading at all because of the fees that can rack up. They can quickly amount to hundreds of dollars, depending on how many options are being traded.
But with Tastytrade, the fees are all easy to swallow and they will not slow options traders down. You are not charged closing commission for options on stocks & EFTs, Futures, or Microfutures. And, opening commission fees on options are reasonable at between $1.00 and $2.50 per contract.
Tastytrade' Top Features
Tastytrade interactive brokers has a lot more than just good fees. It is also filled with many features for options traders to amplify their options strategy. For example a platform workflow, trade input, analytics, and more. The strong and robust analytics system included comes with multiple graphing and charting tools too.
You can build the exact options of your choosing with Tastytrade. With the interactive brokers, you can craft the deal exactly as you'd like from the strike price to the expiration date, and much more. And each of these features is easy to tweak and change.
Tastytrade also gives users probabilities for the potential profitability of your possible options.
This means that you will have a good idea of the profit that you can make off your upcoming deal based upon the trading tools that Tastytrade gives you.
The other great thing about Tastytrade is that both the desktop version and the mobile app are very easy to use and are designed to look like one another. The look and feel of both the app and the desktop version of Tastytrade are one in the same and they are both intuitive, simple, and easy on the eyes as well.
The desktop, web-browser, and mobile platforms have inbuilt technology that gives users a visible representation of their trade and how it may go. Traders can view profits, losses, and breakeven 'zones' that are color-coordinated and clear.
Tastytrade' Education and Resources
Tastytrade gives options traders streaming news, research and educational resources and a lot of great little features that make options trading both easy to commit to and fun. Take advantage of the "Follow Feed" button to keep track of traders' successes.
Perhaps even more useful though is the in-platform video feed. This is allows options traders to watch professional traders in real time while they share their trading expertise and discuss option trading, stock trades, trading strategies, research, and market movements.
2. IG
IG Investments is one of the top interactive brokers for many different uses in trading, and that includes options trading. The options trading platform is incredibly extensive, with expertise and research at your fingertips for many of your varying interests.
The minimum deposit for options trading is £250 to start with. Options trading is typically considered one of the riskier stock trading ventures. Because of this, you will likely have to get approval before you begin to help you avoid losing money rapidly. This will largely depend on your risk profile.
IG Fees
IG options are mostly commission-free for both spread betting and CFDs but that does not mean you will not incur any charges. For CFDs, the broker charges £3 per share and options traders will pay the spread when spread betting.
On the other hand, currency conversion fees are reasonable at 0.5% and inactivity fees are only charged after not using your account for two years.
IG's Top Features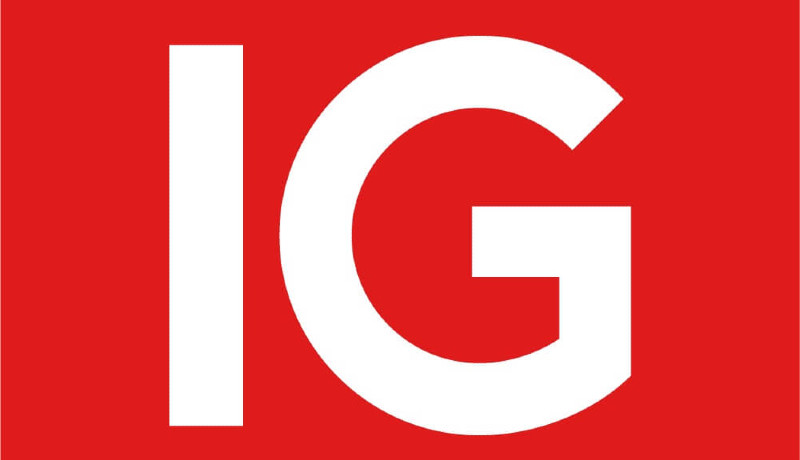 Spread bets and CFDs are complex instruments and come with a high risk of losing money rapidly due to leverage. 68% of retail investor accounts lose money when trading spread bets and CFDs with this provider. You should consider whether you understand how spread bets and CFDs work, and whether you can afford to take the high risk of losing your money.
IG has a really great mobile app but you also will have a web platform available to you. Whether you choose to trade stocks with the app or platform, IG options trades will be simple and straightforward. It uses MT4 for the trading software, making it intuitive and user-friendly.
IG is overall one of the best choices for options.
This options trading platform is great for traders from beginner level to intermediate and advanced traders. It has a large variety of market access, giving you open forums to find the options trades that you really want to dive into.
IG's trading platform uses advanced technology to allow options traders to trade with algorithms. Users can create their own algorithms to open and close trades. Or, select a pre-built algorithm to scan the markets and amplify their trading strategies. Trades are executed quickly and efficiently, and the platforms are easy to use.
IG's Learning
IG has a dedicated "Analyse and Learn" section where you will find a tons of research, trading tools, and educational resources. Read in-depth guides on topics like choosing the right online brokers, building your portfolio, and trading products. You can also keep up to date with the latest stock market and trading insights with reports, podcasts, and analysis tools.
3. AvaTrade
Next up on the list of online broker apps to consider is AvaTrade. If you're just getting started with options trading, this is a great choice of options broker. It's optimal for beginners that are just dipping their toes in the water and trying to figure out the best approach for their needs or goals.
AvaTrade Fees
AvaTrade's pricing is competitive and affordable. Regular trading is zero commission but you will likely pay a small fee on options. However, fees are inline with a lot of other options trading brokers.
AvaTrade's Top Features
AvaTrade's trading platform is designed to make things simple for you. It even has a platform specifically designed for options trading called AvaOptions. This platform is set up so that you can make intuitive options trades and attempt to manage or mitigate risk in the process.
On this platform, there are more than 40 trading pairs with calls and puts both available all in one place. You can create spreads, choose from puts or calls, and incorporate your own options trading strategy into the mix.
AvaTrade overall has a lot to offer. It has a strong reputation when it comes to options trading, especially for those in the beginning phases. That being said, professional traders also seem to love what this online broker has to offer.
If you want to try it out, you can do everything from your mobile device or on a computer. Opening your account is quick and easy, and there is no cost to do so.
It has multiple withdrawal options to connect to.
AvaTrade's Learning
One of the best things here that you will appreciate for options trading is the research, along with the analytical and trading tools available to you. AvaTrade has a wealth of educational resources in its Education Centre.
Articles and guides are conveniently labelled as 'Beginner', 'Intermediate', and 'Advanced', making it simple to find the appropriate level and learn how to develop your options strategies.
4. Plus500
In recent years, Plus500 has become a popular trading platform in the UK for any type of trading. If you haven't heard of it yet, it's time to start digging a little bit deeper.
It is quickly on the rise as one of the best options brokers, and it's clear to see that it has a lot to offer its customers and potential customers as well.
Plus500 Fees
Plus500 is another options broker that does not charge commission. Furthermore, active traders will appreciate the competitive spreads, as well as the free deposits and withdrawals.
81% of retail investor accounts lose money when trading CFDs with this provider. You should consider whether you can afford to take the high risk of losing your money.
Plus500's inactivity fees a bit high compared to some other options brokers though. They start charging $10/month after just three months of not logging into your account. Be sure to keep this in mind if you opt for this interactive brokers.
Plus500's Top Features
With Plus500, you can trade a variety of options. This includes CFDs, calls, puts, and more. You can also trade many other stocks and assets here as well, so active traders aren't limited in their capacity. The interface is user-friendly, with access from mobile or desktop devices.
You can trade CFDs using leverage, which is great once you have a handle on what you're doing and want to play the market a little bit more. You can also trade larger sums without putting up extensive amounts of cash if you qualify for using leverage.
This trading platform really has a lot to offer and is pretty impressive. It's a robust trading platform and intuitive all in one go. But even as intuitive and phenomenal it is, you also have an interface that is user-friendly. This makes a world of difference in most cases.
One of the best things that people love about Plus500 is that it has exceptional customer service options. The team is available to you 24/7 via its online support system. You don't have to wait for office or business hours when you have something that you want handled right away.
Plus500's Learning
Plus500 has a dedicated Trading Academy where you can learn about all things trading. Watch helpful videos that cover topics like rollovers, margin trading, margin requirements and, our topic of the day; options! There is also a free ebook that you can download and read at your leisure.
Another fantastic Plus500 feature is its +insights. This allows you to analyse the activity of millions of active traders in real time. You can filter the data and analyse it to discover trends, allowing you to establish new options strategies.
5. Saxo Markets
Looking for something with fairly local roots? Saxo Markets is an options brokers based in London and is one of the best options trading platforms out there. You can get your fingers into more than 1200 financial markets and 20+ stock exchanges across the globe.
Saxo Markets Fees
Saxo Markets' options trading fees vary greatly. Commission on US stocks for example begin at $1.
However, an options trading account with Saxo Markets has three pricing tiers; Classic, Premium, and VIP. The Classic account will suit most beginner traders and has a minimum funding of £500.
At the other end of the scale is the VIP account which is suitable for serious investors. It has a minimum funding of £1 million. Those in the Classic tier will pay more than those in the Premium and VIP tiers.
There are some limits to options on the Saxo Markets platform.
Saxo Market's Top Features
With Saxo Markets, limits are in place to protect personal investors from extreme risk. Even with those limitations, you still have a lot of options trading right there in front of you.
There are also some requirements to be allowed to purchase options, which is pretty normal. Again, this is a protective factor since options are high risk assets. This requirement is a $5,000+ (£4,000+) account value and written acknowledgement of the associated risks.
What's more, It carries one of the largest pools of assets, even more than some of the biggest names within the industry, which is pretty impressive
Saxo Markets' Learning
One of the most impressive aspects of Saxo Markets is its research and educational tools for trading. People love the information and how easy it is to sort through. Head over to Saxo Markets' Inspiration page for a range of podcasts, videos, and webinars. Read articles written by trading experts who share their extensive trading research.
6. Charles Schwab
Charles Schwab is a really great trading platform for options traders. This options trading platform has a lot of great resources available, and it's really simple to use.
Charles Schwab Fees
The fees are pretty comparable to other platforms, with just a $.65 (£0.50) per contract fee applied to options trading.
Additionally, Charles Schwab does not charge to open an account and it has an account minimum of $0 for all accounts, with the exception of a Schwab Charitable account.
Charles Schwab's Top Features
You may have heard of StreetSmart Edge, which is its trading platform, and it's incredibly popular for this type of use. Charles Schwab options traders will benefit from real-time chartering and quotes, a customisable platform, plus robust options tools that help you to analyze and execute your trades.
Charles Schwab also owns TD Ameritrade, but they are two separate trading platforms.
The thing to be aware of if you choose to use it is it does have requirements for options trading. This is because options are considered more risky than traditional investing.
Before you set up an account assuming you can trade options, be sure to check into the requirements so you don't run into any hiccups in the process.
Charles Schwab's Learning
On even the most basic of accounts, you have access to quality research so that you can make fully informed decisions before you place calls or puts. Although Charles Schwab has lots of educational material for you to go through, it is not quite as much as some of the other brokers we've looked at today.
However, there are a number of articles specifically tailored for options traders, making it nice and easy to find what you need.
Furthermore, Charles Schwab has some brilliant podcasts to listen to, as well as plenty of in-depth analytical research.
7. Fidelity Investments
Fidelity is another really great options trading platform, especially if you are willing to upgrade to the Active Trader Pro level.
While you can trade options on the free options trading platform, you will have so much more available to you with Active Trader Pro. It will feel like having a professional trading platform at your fingertips.
The options commissions here are the exact same as Charles Schwab and several other trading platforms.
Again, you get high-quality customer service and a really great platform at your fingertips. It doesn't add in a bunch of hidden fees, but is very open about every cost, commission, or fee that you might incur.
Fidelity's Top Features
This platform is friendly for routine investments as well.
Chances are, you're going to be doing more than just options trading, so that's always a good thing to keep in mind when choosing your online broker.
One of the things that people tend to like the most about Fidelity is its transparency, and the fact that it doesn't charge fees for every little thing. Its approach is all about the customer experience. The options trading platform is very easy to use and will work great for any options trader, regardless of experience.
Did we mention it also has exceptional customer service?
Fidelity's Learning
Fidelity has two extensive educational sections; Markets & Insights, and Advice, Tools, & Guidance. All the information is thorough. There are beginner guides, along with a selection of investment calculators.
Markets & Insights will take you through a plethora of up-to-date articles. Get professional opinions on money trading options, complex financial instruments, and investment opportunities and forecasts.
Things to Consider When Choosing an Options Trading Platform
Before you settle on a platform, be sure to work through the details so that you can make an educated and informed decision about which options broker is right for you. The right fit won't necessarily be the same as someone else you know. There are variables to all options trading platforms.
Consider these details before you make that final choice:
Costs
The costs of options brokers are important to consider. We've discovered just at looking at these few choices that some are free, some charge small fees, and some just charge the per contract commission that is minimal.
Every broker for options trading will have their own fee structure.
They might even have a variety of fee structures based on the type of trading account that you are in. Be sure to look at those specific companies to best understand the costs you will see.
Available Resources
Whether you are experienced or just getting started with trading platforms and options trades, you need resources at your fingertips. This includes updates, research, and even stock market watches so that you can be informed. Education and material resources could include videos, PDFs, webinars, and more.
Resources should have a variety of things from research to education. This gives you the tools that you need to best learn about options trading, and also to monitor the stocks or assets that you are looking at.
Trading Platform
When you are advanced enough in trading to trade options, you need a high-quality options trading platform. You would be surprised at how many companies have platforms that really aren't very user-friendly. You need something intuitive and easy to manoeuvre.
If it's impossible to search and find the right options, then that platform isn't a good fit.
It is best if the platform has tools specifically for options trading, and a robust set of tools and resources to help you make the most of your experience.
Market Volatility
Markets can be volatile and this should be given a lot of thought before beginning your options trade venture. A market is said to be volatile if the price experiences sharp fluctuations within a short timeframe. And, during this timeframe, the stock price reaches new highs and lows. The changes in price are influenced by the rise and fall of demand.
Ensure you keep up to date with the news to stay informed of any possible events that can impact stock demand. Analyse the stock price over a set amount of time to determine how volatile they could be.
Additional Options Trading Tips and Information
You may be well familiar with options strategies, or you may be just getting started. Either way, you will likely benefit from the information you will find below. These are some of the most common questions in regards to options trading.
Should I Open a Demo Account?
In my opinion, the answer to this is most definitely a "yes" if you're new to trading. Many options trading platforms offer demo accounts that enable free options trading practice with none of the risk. Often, these have exactly the same options trading capabilities but you trade with virtual money.
The best options trading platforms will offer unlimited use of a demo account which not only helps you get to grips with the different layout and functionalities of your chosen interactive brokers, but also helps you with learning your options trade strategies.
Put your education into practice and learn to successfully analyse a stock price and trade options without losing money rapidly. When you ave practiced thoroughly, you can go ahead and open a real account with your chosen options brokers.
What Trading Terms Should I Know Before Beginning?
Before you practice options trading, take the time to learn some key trading terms. Learning these will help you make the most of your option trading experience. Here are some of the most important terms every options trader should learn before setting out:
Strike price – the price at which you buy or sell a stock.
Call and put – the contract that affords traders the right to buy or sell a stock.
Premium – the cost per share of an option.
Expiration date – the date at which the contract is no longer valid. This could be within days, weeks, months, or even years.
Bid – the price you pay for an option.
Holder/writer – the people who own or sell the contract.
Bearish – anticipating lower prices.
Bullish – anticipating higher prices.
This is just a small selection of terms that will be useful for your options trade ventures. As always, conduct thorough research before committing to any trade.
What Is the Best Options Strategy for Beginners?
Once you've chosen your options trading platforms, you need to start considering your trading style. Your chosen options brokers will have educational resources that can offer detailed advice on which strategy is most suitable for your circumstances. Some ideal strategies for beginners include:
Long call
Long put
Covered call
Married put
Are Interactive Brokers Required to Trade Options?
You don't necessarily have to use an investment adviser to trade options, but you will need an online broker platform to be able to make these trades. Some options brokers have specific requirements for options, so be sure to pay close attention to those details.
Trading options may have commissions or contract fees associated with them, but there are some online providers who actually don't charge you any additional fees outside of your contract fee.
How Do You Start Trading Options?
The first step to becoming an options trader is to have an active investment account and to make sure that it is set up for trading options. Once you have that in place, you simply search for calls and puts on the market, and make a decision on how you want to trade options.
In most cases, you will have to get approval from options trading platforms to trade options. This type of investment is considered high-risk so they must be certain you understand the risks and that they align with your investment objectives. It's a good idea to have basic trading experience before you make the request as well.
Choose how you want to use options trading, and then find calls or puts that fit your preferred strategy.
Final Thoughts on Options Trading Platforms
Options trading isn't for everyone, but those who do choose to utilize it need a reliable options broker to do so. These best brokers for options trading are chosen specifically for what they have to offer in the world of options, but also because they are great places to establish trading relationships.
Be sure to browse through all of the information and details so that you can find the best options trading platform to meet your needs.
Related Guides:
Get Bank Deals & More
Sign up for our email updates on the best bank deals, money savings tips and more.